Summary of Digital Book World (dbw)
Edit
from source[1]- "The publishing community for the 21st Century.
Starting with the only conference designed to address the radically changing commercial publishing environment, Digital Book World has evolved into a year-round platform offering educational and networking resources for consumer publishing professionals and their partners — including agents, booksellers and technology vendors — online and in person."
Transmedia 101 for Publishers and Authors
Edit
August 14, 2010 see http://www.digitalbookworld.com/2010/transmedia-101-for-publishers-and-authors/ and http://www.slideshare.net/digitalbookworld/dbw-transmedia101101012
from source[2] " Transmedia is officially a buzzword, but depending on whom you ask, its definition will vary wildly. The consistent thread running through most definitions, whether in advertising, film, or gaming, is story — and no one knows the value of a story better than publishers and authors.
In this free WEBcast, Transmedia 101 for Publishers and Authors, we will define transmedia from a publishing perspective, explore the opportunities (and challenges) it presents, and discuss how it changes the traditional models of content creation and acquisition."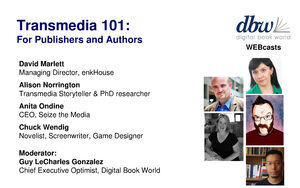 ---
REFERENCES