A more general term for NBC's TV 360 initiative and also TV360
from source [1] "Seems '360′ is back in fashion, the BBC have been using it for many years but I wonder if mobile, online and TV is truly 360. Here is a slide from a BBC presentation I did back in 2000 that attempted to illustrate 360 thinking, in a very simple way… In those days narrowband was still significant but I included print, games, dvd, personal TV, PDA and the catch-all non-existant platforms. There will never be a truly 360 service (although Da Vinci is getting close!) – some services gradually get to 360 degree by degree – but surely linear TV, websites and mobile phone are what…140 degrees or something? Add the physical world into the mix and we are getting somewhere but more importantly add in user content."
from source [2]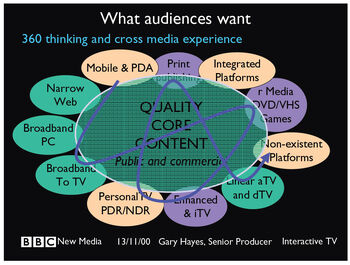 NBC 360 TV
from source [3] "More than half of the presentation was devoted to the marketing opportunities presented by the network's TV 360 broadband initiative, which includes streaming, social networking and special features accompanying NBC's series on NBC.com. NBC has been the most aggressive among the broadcast networks in its expansion into the digital universe, and ad buyers, in town this week to get an early glimpse at broadcast networks' development for next season, have taken notice."
From source [4] "I think you're going to see us be leaders in all those spaces. NBC Universal Television CEO, Jeff Zucker, recently announced that there's going to be a large initiative within NBC, called TV360. It's effectively a way of saying to production companies, to studios, to advertisers, that we're no longer thinking just about what you see on your TV screen, when we think about a show. Everything is going to have a package associated with it, in which there will be a VOD component, a mobile component, and an online component. And it's going to become truly part of the DNA of how NBC programs its shows."
TV Week article referencing NBC 360 initative in relation to the Heroes property [5]

Convergence Culture article referencing NBC 360 initative in relation to the Heroes property [6]
---
REFERENCES
Ad blocker interference detected!
Wikia is a free-to-use site that makes money from advertising. We have a modified experience for viewers using ad blockers

Wikia is not accessible if you've made further modifications. Remove the custom ad blocker rule(s) and the page will load as expected.